I am really excited to announce this. I've been working on this for a few months now, and it's finally ready to talk about.
Meet Kyra Sellers, a.k.a. Goth Girl!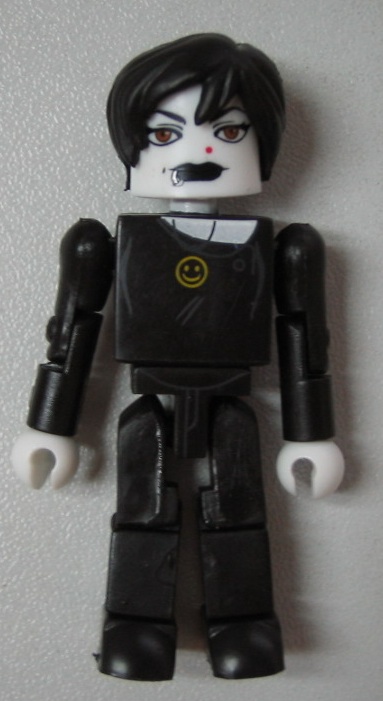 That's Kyra in "Minimate" form. Minimates are cool little block-style action figures. They're two inches of articulated plastic awesome.
Over the years, there have been Minimates for Spider-Man and the X-Men and Star Trek and Ghostbusters and Battlestar Galactica and lots more (you can learn more at minimates.com ). Now Kyra joins their ranks as a very limited edition Minimate, thanks to the folks at Stupid Kat LLC and Diamond Select Toys, who decided that Kyra just had to exist in three dimensions. (And, you know, in plastic.)
Nose stud? Check!
Lip ring? Check!
Reverse-smiley? Check!
All-black outfit? Duh!
How do you get your hands on this toy? Well, you can't buy it in stores. In fact, you can't buy it — period. The Goth Girl Minimate will only be available as a giveaway from Houghton Mifflin Harcourt and from me.
The first people to get the Minimate will be the entrants in the Goth Girl Rising Trailer Contest. Everyone who makes a trailer will get a Goth Girl Minimate. (For the rules for the Goth Girl Rising Trailer Contest, click here.) But if you have neither the time nor the talent to put together a trailer, have no fear: there will be other ways to net yourself a Kyra of your very own.
So, keep your eyes on my Twitter feed, my Facebook and MySpace pages, and on BarryLyga.com and fanboyandgothgirl.com — Kyra could be coming your way!
(P.S. If you were following me on Twitter or Facebook, I dropped some hints about this toy. They were "I'm not TOYING with you," "Technically SMALL news," and "Mr. McGuire to Benjamin," this last one an allusion to the famous line from The Graduate: "Plastics!")